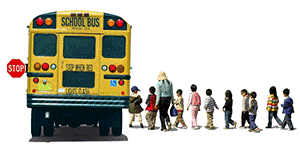 These rules are in place for the safe operation of SESD school buses. They help ensure the bus driver can concentrate on driving without being distracted by misbehaving passengers. They also minimize distractions so passengers can hear and respond to instructions in case of an emergency.
BE COURTEOUS TO THE BUS DRIVERS AND OBEY THEIR INSTRUCTIONS AT ALL TIMES.




Be at the bus stop 10 minutes before the pick up time.




Get in a line when the school bus is approaching and stand ten feet from the stop.




An adult must meet all Pre-K, Kindergarten and First Grade Students. (The driver has the right to detain a student from exiting the bus due to question of age for their safety).




Never cross or go behind the school bus.




When getting on and off the bus, always use the steps and handrail, never jump.




Take your assigned seat quietly and quickly.




Students must sit facing forward at all times.




Talk in class room voices.




Do not act or behave in a manner that interferes with the safe operation of the bus.




Bullying will not be tolerated.




Fighting on school buses will not be tolerated.




No pushing, shoving, touching others (or their personal items) or spitting on bus. Respect other people and their personal property while on the bus and at the bus stops.




Do not eat any food or drink any liquid whole on the school bus (water is OK in a clear plastic bottle)




No chewing gum.




Keep the aisle open at all times.




Backpacks, etc., shall be under the passenger's control at all times and can not occupy a seat needed by another student. Backpacks, purses, or similar items will remain closed at all times on school bus.




Spraying perfume or other scented substances are not allowed on the bus.




Keep all parts of your body and all other objects inside the bus. Do not throw anything from, or on, the bus.




Never leave your seat while bus is in motion. Remain seated until the bus comes to a complete stop.




Do not open or close windows without the permission of the bus driver.




Never bring light emitting devices on the bus (laser lights, lighters, matches, noisemakers, cell phones, etc.). No cell phone usage on bus. Phones must be put away.




No electronic devises (music players, video games, etc.) out or in operation while on the school bus.




No animals, insects, reptiles, or large science projects allowed on the bus.




Skateboards, scooters, or similar items are not allowed on school bus.




No foul language or improper hand gestures toward students, bus driver or general public.




Students will not be allowed to get off the bus at a different bus stop, nor will they be permitted to switch buses for any reason without obtaining a form from the school office.




Weapons of any kind are not allowed on school buses at anytime.




No tobacco products or non prescription drugs allowed on the bus.




Property damage to the school bus, bus stop or other person's possessions will be the responsibility of the passenger/parent.


Restitution will be made for any damage which occurs to a school bus. Failure to make restitution will result in denial of all school bus privileges for one full school year.

** At no time is this list intended to cover all rules and regulations pertaining to the transporting of students.